Season 2 of the Currency Shift Podcast will launch on June 5th!
It is time to celebrate and we want YOU there!
We're back at it again with our favorite event planning groups, Curated Vibes Group & Dream in Color Events.
We will have tasty Hors d'oeuvres catered by the amazing Chef Latori Knowles, CEO of @forkinfresh, drinks, a musical performance, and great vibes curated by our favorite DJ, The Tri-State Great, DJ Nasty @itsanastyworld of the GWININ Team.
**There are a limited amount of tickets-- get your tickets before they sell out!** Ticket sales end June 3
We are celebrating at the beautiful Punto Space, Four Spaces. Three Levels. Endless Possibilities. Punto Space is located in the heart of the Fashion District in New York City, this intimate event venue features an elegant glass façade that offers private, street-level access and the opportunity to create a unique experience that starts at the door. The contemporary, raw space combines capacity with intimacy. Four distinct spaces on three levels encompass more than 3,500 square feet. Custom configurations, a state-of-the-art audio-visual system, and full-service support provide endless possibilities for realizing your creative vision. #puntospace @puntospace
We look forward to celebrating with you soon!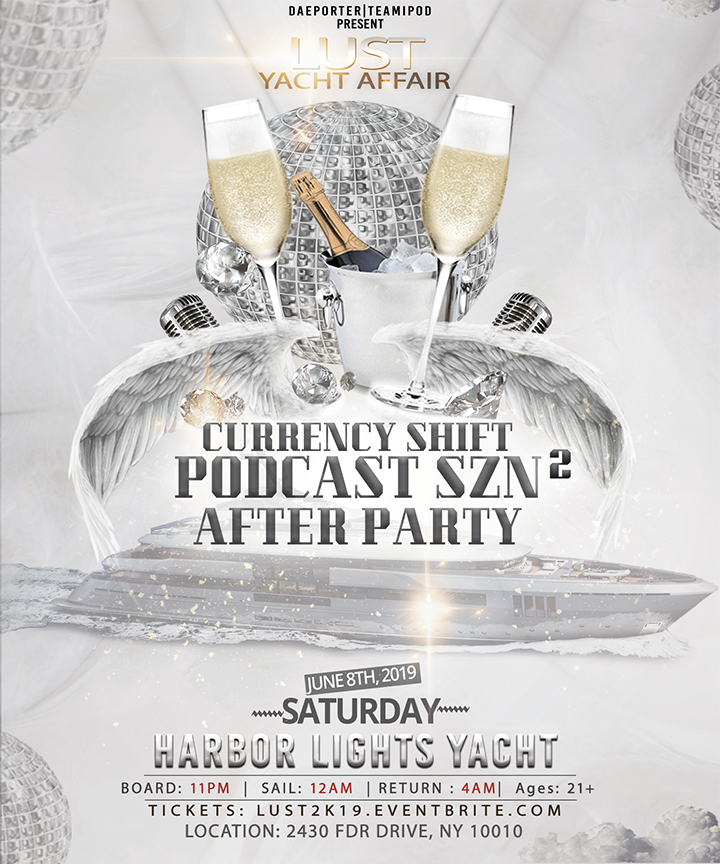 Season 2 Yacht After Party!
Yes, we are partying all night to celebrate the release of Season 2 of the Currency Shift Podcast! Grab your tickets now-Early-Bird tickets end June 1
YACHT: HARBOR LIGHTS YACHT
CAPACITY: 500
PORT: SKYPORT MARINA
Located at 2430 FDR Drive, NY 10010
Boarding: 11:00PM
SAIL: 12:00AM
RETURN: 3:30AM
END: 4:00AM
End of Season 1 Brunch Party
Come out and celebrate a great first season with Currency Shift podcast! Join us January 26, 2019 3-7pm for Brunch, Party, Games, and build your Social Currency. All you can eat and drink at MIST HARLEM 46 west 116th street, New York, New York 10026
Currency$hift Launch Party!
Join us in celebrating another successful Silicon Harlem Gen-Tech Conference and the launch of the Currency$hift Podcast. During the evening, we will provide the first look and listen to the podcast, and toast to the first media project under the CEO & Founder of Currency Shift, LLC, Brittany S. S. Hardin!
This event will be held at the newly renovated, Cecil Steakhouse in historic Harlem, NY. Throughout the night, you will have a chance to network with a variety of Tech and Community leaders while enjoying the great vibes by
Learn more about the mission behind Currency$hift at www.currencyshiftnow.com, and come prepared to have a memorable night out with amazing people.
See you soon!